How's it going, Kenny here, Mastermind behind NerfGunRUs.com, If you are on this page, I want you to understand I am A Firm Nerf Advocate and will remain this way for as long as foam weaponry is cool… Sooo forever! 😉
Okay, so here at NerfGunRUs.com I review Nerf Guns and give a fun story line to go with them, all Nerf Guns are awesome but some are better than others and some are much better than others. Now most of this is up to personal preference, some people enjoy long range Nerf Guns to stay out of the direct line of fire while others prefer to take the fight straight to the enemy! A big difference maker can be the terrain of your Nerf Battle or larger Nerf War, this can make a big difference in what Nerf Gun you should bring to the fight!
What Nerf Gun you choose and what upgrades you decide to add to your Nerf Gun of choice can make all the difference in the success of your mission!
---

NerfGunRUs.com has become an associate with NFSTRIKE.com, a China Based Business that offer lots of Aftermarket Nerf Accessories and work wear products! They specialize in this field by cooperating with many Chinese factories. Their products are sold all over the world and they can offer you good quality products at a pretty competitive price.
I value the opinion of my fans here at NerfGunRUs.com and I am always looking to help you get an edge on your enemy. For a special NerfGunRUs.com offer, click the discount banner below to check out all of NFSTRIKE.com's products to see what they have to offer that will help you get an edge on your enemy!
---
Now this is where I need the help of anyone who makes a purchase from NFSTRIKE.com, my NerfGunRUs.com fans, I need you to leave a comment below to the quality and durably of any product you purchase from NFSTRIKE.com to help anyone else looking for a quality check of the same product as you!
NFSTRIKE.com has tons of Aftermarket Nerf Upgrades like full upgrade kits for The Nerf Elite RapidStrike and The Nerf Elite Stryfe, awesome looking 6, 12, 15, and 18 Nerf Dart Magazines, all kinds of tactical vests and of course aftermarket Darts. My view on the best Nerf Dart being made exclusively by Nerf has slightly changed. Aftermarket Darts can be cheaper and still fire pretty well, but finding out which ones work best and for how long is what the comment section of this post is all about! Aftermarket parts can help you Get An Edge On Your Enemy!
There are a few options that stand out right away to me like the magazine covers. Those I can see to come in handy in a lot of situations, preventing them from breaking on the ground or hitting them on really anything, also when changing magazines, you have much less chance of the magazine slipping out of your hand, but you can't see how much ammo you have left… Just be a good counter! 😉
Alright, I'm going to leave you with the option to check out NFSTRIKE.com further and see what they have and what you would want. I would love for you to leave a comment of any products you see from NFSTRIKE.com that really catches your eye and if you buy them, let everyone know what you bought and how you like it! I can see how aftermarket Nerf Equipment can help me out in Nerf Combat, Can You?!
---
Thanks for taking the time to check out my post here about Aftermarket Nerf Upgrades And Accessories! Let Me Know What You Think In The Comments Below!
Awesome!
Aftermarket Nerf Gun Upgrades And Accessories Could Be The Answer You Need To Succeed!
Kenny
Master Mind Behind NerfGunRUs.com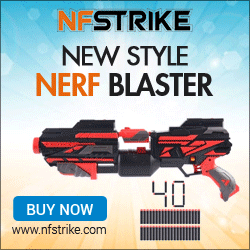 ---