Happy New Year Everyone! I hope you are ready to move on to the new year. This new year should be full of fun and excitement. One way to ensure that happens is, make sure you get Nerf Battles in weekly and Nerf Wars in monthly. If that is your new years resolution, make it happen! Get your crew together, get your Nerf Guns ready for action, and pick a side or win for yourself, by going in alone in a free for all!
No matter what your plans are for the New Year, you are going to want to have an idea on the top Nerf Guns going into 2020. Of course Nerf will be coming out with newer, bigger, better, more awesome Nerf Guns as the year rolls on, but I have narrowed down the list to the ones out now, available to you.
Everyone has a certain Nerf Battle style and that will ultimately determine what Nerf Gun will work best for you. This however is a post that will show my personal Nerf Battle preference which leans much towards the power and domination side of the Nerf spectrum.
Without further a due, I give you my Top 6 Nerf Guns Going Into 2020.
---
Coming in at Number 6, … The Nerf N-Strike Elite Infinus.
---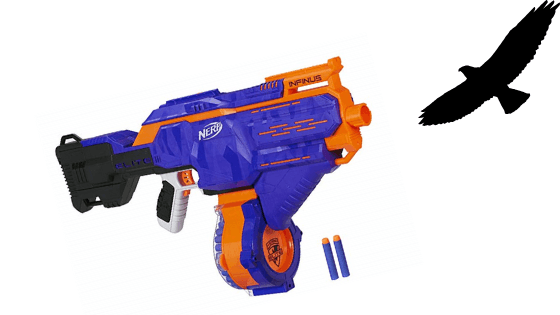 With a 30 Nerf Dart drum, the Nerf Elite Infinus has the ultimate scavenger mode. Without having to remove the ammo drum, any regular size Nerf dart you find in the Nerf Battle Zone, can be easily added to the ammo in your drum, simply shove your new Nerf dart in the side automatic loaded. It sucks your dart in and perfectly loads it for you to fire.
Big, but very powerful. Anywhere you can find Nerf darts is a great place to be with the scavenger feature of the Nerf N-Strike Elite Infinus.
Following up The Infinus is an older contestant from the Mega Series, at Number 5, … The Nerf Mega TwinShock.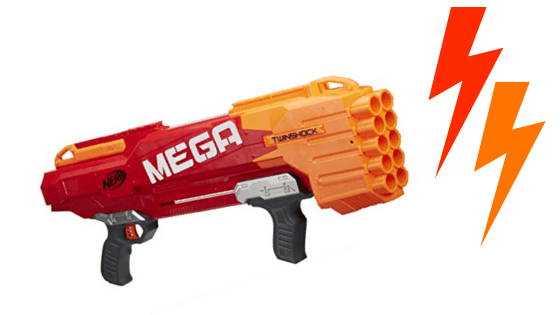 ---
When you want up close and personal domination, you need the best pump shotgun style Nerf Gun. You need the Nerf Mega TwinShock. This Nerf Gun has 10 Nerf Mega Darts ready to fire 2 a time with a simple pump and pull of the trigger. Kick down the door and take out the enemies on the inside. There is no Nerf War that doesn't have someone who wants to play the big tough guy.
Every Nerf Gun has their weaknesses and I would put the maximum 5 shots that the TwinShock has is it's weakness. So when you want to play the tough guy door kicker, make sure you know how to use your shots perfectly. Once you have trained, you will have no problem handling the situation.
Now everyone has an opinion, and my opinion for Nerf Gun Number 4 going into the New Year is, … The Nerf Rival Nemesis MXVII-10K.
---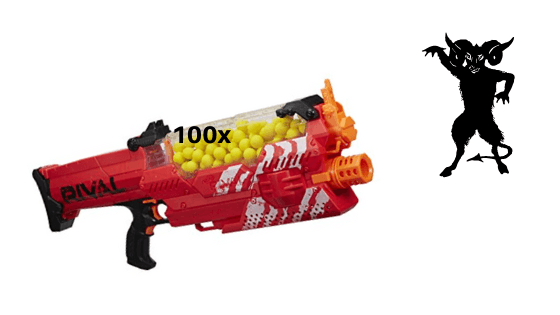 Everyone has a Nemesis, it just matters if you have a Nerf Nemesis MXVII-10K with 100 Nerf Rival Rounds to deal with them. I mean there are all kinds of ways to deal with someone you don't like, but I think a 100 Nerf shots will do just fine. No matter where they are, hold down the rev motor trigger and let the Rival Rounds fly!
There are lots of ways to fire off 100 shots, either annihilate 4 targets with 25 shots each, or 100 targets with just one. If you are not the greatest shot in the world, I bet you can narrow in your shot as you spray Rival Rounds until you hit your target. Definitely a great way to get an edge on your enemy in a Nerf Battle.
Sitting in position Number 3, this was a close one, folks. Positions 3 and 4 could be easily over turned with the right arguments, but my argument leans toward the final decision for Nerf Gun number 3, … The Nerf Mega Mastodon.
---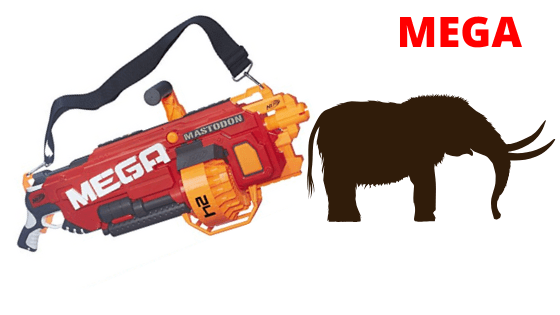 Absolutely a monster of a Nerf Gun, you need a shoulder strap to fully control this beast if The Mastodon happens to weigh more than you! Even if you can handle the weight of the Mastodon, the strap comes in handy so you never have to drop your monster of a Nerf Gun.
Coming in with 24 Nerf Mega Darts firing as fast as the motor and drum can turn, The Nerf Mega Mastodon is quite the Nerf War machine. Hold down the rev trigger and hold down the firing trigger to unleash screaming Nerf Mega Darts on anyone who dare cross you. Perhaps they will surrender, perhaps they need to be taught a lesson on who's boss. Understand your power and use it wisely, so long as you don't come across any of the other Nerf Guns on this list, you should dominate anyone that dare come your way.
Now on to our two finalists. Some may be surprised, some may agree completely. No matter what, the final two Nerf Guns will literally blow away the competition. These two are neck and neck in my decision-making process. Both finalists, both taking home a gold or silver medal. Here we are, onto the final two best Nerf Guns going into 2020.
Ladies and gentlemen, here we are with the winners. Coming in at second place, taking home the silver medal. This is a monster of Nerf Gun that literally obliterates anything that comes into it path, you thought the Nerf Rival Nemesis was scary. The Number 2 Nerf Gun going into 2020, is … The Nerf Rival Prometheus MXVIII-20K.
---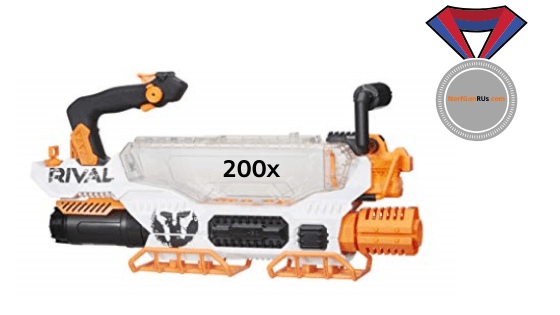 Understand this right off the git go. The Nerf Rival Prometheus MXVII-20K holds and fires on full auto, 200 Nerf Rival Rounds. The Nerf Rival Nemesis MXVII-10K has half the ammo capacity as The Prometheus. While this beast holds twice what the Nemesis holds, The Prometheus is much bigger as well, this bad boy, like The Nerf Mega Mastodon, needs a strap to hold it and to secure it from any drop damage. I am serious, this Nerf Gun is HUGE.
Anything you want to hit with a Nerf Rival Round, well lets just say, if you don't hit your target the first shot, you only have 199 more to spray at your target. I am willing to say, your target is going to get hit, at least once by your barrage of Rival Rounds. What was once a nice area, is now covered in the remnants of what The Nerf Rival Prometheus MXVII-20K can do.
Congratulations to the silver medal award winner, The Nerf Rival Prometheus MXVII-20K. What a Beast!
Finally, the moment you have been reading on and on for. The Number 1 Nerf Gun going into 2020. This is a pretty New Nerf Gun that came out October 1, 2019. This is the very first of it's own series. Some may think it's from the Nerf Mega Series, but it's not. This is newer, bigger, further firing, more accurate. The best Nerf Gun going into 2020 is … (*Drumroll*) The Nerf Ultra One.
---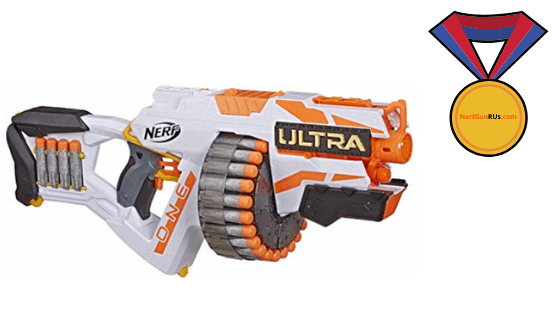 With this new Nerf series, The Nerf Ultra series, you will find these Nerf Guns to have a unique design, as well as a unique Nerf Dart. These new Nerf Ultra darts are shorter than regular Nerf darts and in between the thickness of a Mega dart and a regular Nerf dart. These new darts are made of a newer type of foam and a newer design that only works with the Nerf Ultra series. These new Nerf Darts are supposed to be the furthest firing darts Nerf has ever made, claiming to fire 120 feet out of the Nerf Ultra One.
The Nerf Ultra One has a rotating drum much similar to The Nerf Mega Mastodon. The Drum of The Ultra One holds 25 Nerf Ultra Darts and fires them semiautomatic with a rev motor. While this new Ultra One has new Nerf Darts, you need to use only these new darts, as they work great, fly far, and are easily detected by the firing feeding arm. When you are on the move, you can easily fire any direction necessary. Not only is this thing scary for its size, have newer stronger Nerf darts, and have super far range, this Nerf Gun can be used in just about any situation. The number 1 Nerf Gun going into 2020 is the scary and versatile Nerf Ultra One.
The decisions were hard, but the list has been posted. Make sure you let me and everyone else know you opinion down below in the comment section.
Thank you so much for taking the time to check out my post here at NerfGunRUs.com. Nerf Guns have been providing safe fun with awesome new Nerf Guns every year since 1992 starting with their Nerf Sharpshooter. This unlimited fun will continue into the 2020 year and beyond, with awesome New Nerf Guns to complement The Nerf Ultra One as well as most other series too.
Every Nerf Gun can give you a different edge on your enemy, you just need to know how to get that edge. Using certain Nerf Guns will give you certain range and ammo capability advantages. With the Nerf Guns listed above, not only do you get a lot of ammo, the minimum amount from the one I listed is 10, but that is from the Nerf Mega TwinShock. A Nerf Gun meant to kick down a door and blast enemies inside with a 2 Nerf Mega Dart shot. Not only do you get a lot of ammo, you get firepower that is off the chart.
Combine the firepower and 200 Nerf Rival Round ammo capability of The Nerf Rival Prometheus MXVIII-20K and you end up with an ultimate firing machine that will stop literally anyone or anything in it's tracks. Unless they happen to have another Prometheus or finely honed skills with The Nerf Gun of their choosing, you should mop the floor with anyone who stands in your way.
Once again, thank you for taking the time to check out my post here about The Best Nerf Guns Going Into 2020 : Top 6. I wanted to create a top 5 post but I really wanted to sneak the Nerf N-Strike Elite Infinus in this post just because it has the best scavenger capability and allows for a lot of ammo to be held and shot quickly. All the other Nerf Guns in this list have insane firepower and ammo capabilities.
Ammo Capabilities:
Nerf N-Strike Elite Infinus – 30 Elite Darts + Scavenged Darts
Nerf Mega TwinShock – 10 Nerf Mega Darts Fired 2 At A Time
Nerf Rival Nemesis MXVII-10K – 100 Nerf Rival Rounds
Nerf Mega Mastodon – 24 Nerf Mega Darts
Nerf Rival Prometheus MXVII-20K – 200 Nerf Rival Rounds
Nerf Ultra One – 25 Nerf Ultra Darts
If you have anything to disagree with, anything you would like to add, or any questions you have about the Nerf Guns I listed above as The Best Nerf Guns Going Into 2020, feel free to leave your comment below in the comment section. I will get to your comment ASAP. Thank you for checking out NerfGunRUs.com, I hope you get all the Nerf Knowledge you can to get an edge on your enemy!
Awesome,
Kenny
Creator Of NerfGunRUs.com
Help Spread The Word About NerfGunRUs.com On Social Media!