Product: Nerf N-Strike Elite Strongarm Blaster
Ammo Capacity: 6 Nerf Darts
Best Attack Position: Close – Mid Range (covered)
Overall Rating: 90 out of 100
---
What Is The Nerf N-Strike Elite Strongarm Blaster?
The Nerf N-Strike Elite Strongarm is a Nerf Gun that has an original design that hasn't needed much improving. One major improvement that the newest Strongarm's have, is the SlamFire feature that allows you to fire all 6 shots in just seconds by holding down the trigger, then using the top pull back priming action to fire 1 Nerf Dart with each pull back. The Nerf Dart will fire at the end of the draw back.
The Nerf N-Strike Elite Strongarm Blaster is a best seller on Amazon.com for its original Nerf design, easy to maneuver pistol style, and 6 fired Nerf Darts. Depending on your reload speed, you can load 6 more Nerf Darts ready to go with the easy to load, rotating barrel that flips out for easy reloading and be ready to take out your target, they won't be expecting another attack from the same Nerf Gun so fast.
*Reload Speeds Vary On Skill
How To Use:
Load 6 Nerf Darts Into Rotating Barrel
Pull Back Top Action To Prime
Aim At Your Target That You Want Eliminated
Pull The Trigger To Fire 1 Nerf Dart
Repeat 2-4 Until Reload Required
---
Pros Vs Cons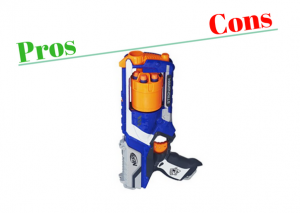 Pros:
Easy To Handle
Fast Reloading
6 Dart Rotating Barrel
Cons:
The Nerf N-Strike Elite Strongarm Blaster is an incredibly easy to maneuver, quick to fire and the rotating barrel make for quick reloading so you can get right back to the fight! When you are ready to reload, find a place that gives you good cover, or a teammate that you trust, flip your rotating barrel out to the side and load your 6 Nerf Darts.
When you want to take The Nerf Elite Strongarm into a Nerf Battle, you are going to want to make sure you keep your shots to mid range or maybe even close call Nerf Combat. There is the option of upgrading your Nerf Darts to Nerf AccuStrike Darts, that will give you more accuracy, with practice, you may be able to take some further shots, but in a case of long range, just get a sniper styled Nerf Gun!
---
Who Is The Nerf N-Strike Elite Strongarm Blaster For?
The Nerf N-Strike Elite Strongarm Blaster is for anyone that is looking to have a fast shooting and fast reloading pistol style Nerf Gun. The age suggestion is 8 years old and up, but if you can safely teach your kids to shoot then they would love this Nerf gun too. Parents, train your kids to fire properly!
If you are someone really looking to get an edge on the enemy, this is an awesome pistol style blaster that will help you wipe out your enemy from close to mid range or behind cover. I always recommend having a good cover for yourself inside the Nerf War Zone, you never know where a Nerf Dart might come flying from!
Great for a secondary Nerf Gun when you Primary Nerf Gun goes down!
---
Is The Nerf N-Strike Elite Strongarm Blaster Worth The Price?
The Number One Question When Buying Anything…

The Nerf N-Strike Elite Strongarm Blaster is a top seller on Amazon.com because it is one of the cheapest 6 Nerf Dart firing Nerf Guns but still great working and awesome to own and use in Nerf Battle. Cheap doesn't mean bad, just a chance to Get An Edge On Your Enemy!
I would recommend this Nerf Gun to anyone who has never owned or shot a Nerf gun. The Strongarm is great to get your skills up and become more familiar with Nerf guns. My very first Nerf gun was very similar to this one but outdated now.
I believe the Nerf N-Strike Elite Strongarm Blaster itself is worth the price. With 6 Nerf Darts that easily fire and quickly reload, you will always have protection, just hope your enemy doesn't have a larger Nerf Gun!
---
My Final Opinion Of The Nerf N-Strike Elite Strongarm Blaster
My final opinion of The Nerf N-Strike Elite Strongarm Blaster is that this is a great starter Nerf gun for anyone or a great addition to any Nerf Gun collection. A pistol style Nerf Gun is the easiest to use on the  move and get away with after popping your target!
You can get into head to head battle or target practice in your spare time. Either way, I believe The Nerf Elite Strongarm is a great Nerf Gun to own. Nothing like sharpening your target practice skills before upgrading to a better Nerf Gun.
When you take a Nerf Gun that holds 6 Nerf Darts and has the option to fire them all in just seconds by holding the trigger then over and over fire with every pull back of the top priming action, you can only improve by adding more accurate Nerf Darts, add some Nerf AccuStrike Darts to your Nerf Elite Strongarm for more improved accuracy!
---
At A Final Glance … The Nerf N-Strike Elite Strongarm Blaster
Product: Nerf N-Strike Elite Strongarm Blaster
Ammo Capacity: 6 Nerf Darts
Best Attack Position: Close – Mid Range (covered)
Overall Rating: 90 out of 100

When you are ready to jump into The World Of Nerf or you are already part of it, The Nerf Elite Strongarm is an awesome Nerf Gun to start with or add to your Nerf Arsenal. When you are ready to purchase a Nerf Elite Strongarm, Clicking The Strongarm Banner Above will bring you directly to Amazon.com's purchase page of your very own Strongarm, or a great gift for someone else!
NerfGunRUs.com works with Amazon.com to make sure you find the Nerf Gun that fits your style, The Nerf Strongarm helps anyone in close to mid range Nerf Combat, then allows you to easily switch over to Amazon.com where you have the option of frustration free packaging or manufacture's packaging, along with other deals, like ammo! Nerf AccuStrike Darts? Never Run Out Of Ammo!
---
Thanks for checking out my review of The Nerf Elite Strongarm, I love when you can take a simple design, add SlamFire, then be able to unload your whole 6 Nerf Dart rotating barrel in just seconds… Awesome!
What Do You Think About The SlamFire Feature In The Strongarm?
Help Others Get An Edge On Their Enemy By Leaving Your Comment Below!
Awesome,
Kenny
Creator Of NerfGunRUs.com