Product: Nerf Elite 2-in-1 Demolisher
Ammo Capacity: 10 Nerf Darts, 1 Nerf Missile
Best Attack Position: Any
Overall Rating: 90 Out Of 100
---
What Is The Nerf Elite 2-in-1 Demolisher?
Basic info on The Nerf Elite 2-in-1 Demolisher, The Demolisher has a Nerf Missile Launcher and a Rifle Styled Semiautomatic Nerf Gun that also has the Nerf elite symbol and two Tactical rails. When you can't hit your enemy with Nerf Darts or they decide to head to their cover area, just fire a Nerf Missile and destroy their cover so you can fire more Nerf Darts at them!
For more accuracy, The Demolisher, comes with a stock that allows you to shove it in your shoulder to stabilize the shots you need. There is also the option of Nerf AccuStrike Darts that will help you get the most accurate shot possible with their spinning design when fired through the air.
With an extra holder for your extra Nerf missile you are always ready to destroy any area that is bugging you, then with the banana clip magazine that is also compatible with drums and standard Elite clips, you can destroy anyone inside the structure you destroyed.
The banana clip that comes with the Nerf Elite 2-in-1 Demolisher holds 10 Nerf Darts, and the launcher holds 1 rocket at a time to destroy anything that gets in your way.
The one upgrade I recommend on any Nerf Gun, especially when you are looking for improved accuracy, is upgrading your Nerf Darts to Nerf AccuStrike Darts that fire much more straight and make for much more accurate shots!
How To Use
Remove Battery Cover
Insert 4 AA Batteries / Close Cover
Load 10 Nerf Darts In The Magazine
Insert Magazine Into Demolisher
Load 1 Nerf Missile Into The Missile Launcher
Find Your Target You Want Demolished
Warm Up The Motor With The Lower Trigger
Pull The Trigger To Fire One Nerf Dart (Up To 10)
Pump The Bottom Missile Launcher To Launch A Nerf Missile to Finish The Job
Repeat 6-9 Until Reload Required Or Targets Demolished
*Change Batteries When Lack Of Power Is First Noticed For Best Performance
---
Pros Vs Cons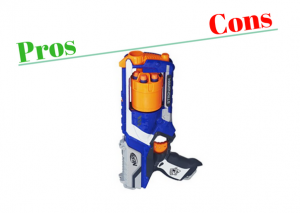 Pros:
Lightweight (Including Batteries)
2 in 1 Blaster and Launcher
Comes With 2 Nerf Missiles
Cons:
Uncomfortable Stock
Batteries Required
The Nerf Elite 2-in-1 Demolisher is an awesome 2 in 1 blaster and launcher,  not only do you get to fire 1 Nerf Missile at your target but you get to reload and fire another because the Demolisher comes with 2 Nerf Missiles. The weight of this gun is surprising light, it is a 2 in 1 blaster that also requires batteries.
However the awesomeness, the stock can dig into your shoulder a bit, if you are planning to purchase The Nerf Elite 2-in-1 Demolisher for younger kids, they can wear an extra layer to protect their shoulder if any complaints. The Nerf Elite 2-in-1 Demolisher does require batteries, 4 AA's, but it also makes it much more powerful. This is a huge argument for Nerf Enthusiasts, Pump Action VS Battery Powered.
---
Who Is The Nerf Elite 2-in-1 Demolisher For?
Nerf Guns are rated for ages 8+, I say with the proper safety rules and training, anyone from Grandparents to toddlers can be having fun with Nerf Guns.
With that said, The Nerf Elite 2-in-1 Demolisher should be used by someone who can handle the firepower. This is a bit more of an expensive gun with breakable parts, so make sure it is handled with somewhat care.
This is a great gift for anyone who has other Nerf Guns. This will most likely jump to their #1 favorite Nerf Gun, until the batteries run out. But once they get replaced, right back to the #1.
---
Is The Nerf Elite 2-in-1 Demolisher Worth The Price?
The Biggest Question That I Always Ask When I Go To Buy Something Is…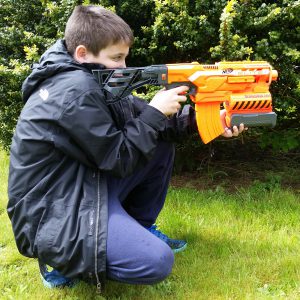 For a 2 in 1 blaster and launcher like The Nerf Elite 2-in-1 Demolisher, that can shoot accurately with the rifle styled Nerf Blaster and Any Area with the Nerf Missile, I think it is very well worth the price.
Keep in mind that for the price, there are breakable parts that may cause the Nerf Gun to stop working. I recommend only buying this for those who can respect and not break things easily. If taken care of The Nerf Elite 2-in-1 Demolisher can last for a very long time.
---
My Final Opinion Of The Nerf Elite 2-in-1 Demolisher
My final opinion on The Nerf Elite 2-in-1 Demolisher, is that this is an extremely great Nerf Gun for any situation, from combat to target practice. You will blow away the competition. If you can't hit your target with the Nerf Darts, Use The Launcher!
You get a total of 10 shots before you have to send in the missile! Or just send it in for fun anyways! Either way, The Nerf Elite 2-in-1 Demolisher, will give you an edge on your enemy!
And Once again, Green Zombie Nerf Darts are the way to go. In my opinion!
---
At A Final Glance … The Nerf Elite 2-in-1 Demolisher

Product: Nerf Elite 2-in-1 Demolisher
Ammo Capacity: 10 Nerf Darts, 1 Nerf Missile
Best Attack Position: Any
Overall Rating: 90 Out Of 100

When you have made your decision that The Nerf Demolisher is going to be your Nerf Gun of choice, you are going to destroy any obstacle that come your way with Nerf Missiles and eliminate any targets with your Semiautomatic Nerf Darts once their hiding spot is destroyed, Clicking The Nerf Elite 2 In 1 Demolisher Banner Above will bring you directly to Amazon.com where you can make your purchase.
NerfGunRUs.com works with Amazon.com to make sure you find the Nerf Gun that will help you destroy your competition then allows you to simply click a banner to be brought to Amazon.com where you will have the option of frustration free packaging or manufacture's packaging for the purchase of your 2 In 1 Demolisher.
---
Thanks for taking the time to check out my review of The Nerf Elite 2 In 1 Demolisher, when  you are sick of your enemy running into their cover, just use your Nerf Demolisher to destroy their cover with your Nerf Missiles, then destroy them with your Nerf Darts!'
What Are You Going To Do With Your Nerf Elite 2 In 1 Demolisher?
Help Others Get An Edge On Their Enemy With Your Opinion Of The Nerf 2 In 1 Demolisher!
Awesome,
Kenny
Holy One Of NerfGunRUs.com