Product: Nerf Modulus IonFire Blaster
Ammo Capacity: 1 Nerf Dart
Best Attack Position: Close To Mid Range (Covered)
Overall Rating: 81 Out Of 100
---
What Is The Nerf Modulus IonFire Blaster?
The Nerf Modulus IonFire Blaster is a single Nerf Dart firing pistol styled Nerf Gun with a pretty cool design that is a noticeable Nerf Modulus Design. The Nerf Modulus Series is meant to be able to take any attachment from any Modulus Nerf Gun and use it to maximize your chances of a successful mission!
The Nerf Modulus IonFire Blaster isn't too exciting compared to other Modulus Nerf Guns but still unique for the barrel extension for longer shooting, Nerf Dart holder that attach to the bottom or top tactical rail for extra ammo and 4 Nerf Modulus Darts that fit into your holder, for quick reloading. Any attachment from the Nerf Modulus Series can be used to improve The IonFIre!
When you need more accurate shots, The Nerf AccuStrike Series allows any Nerf Series that fires traditional styled Nerf Darts to use their more accurate Nerf Darts that spin through the air making for much more straight shooting!
How To Use:
Draw Back Top Breach
Insert 1 Nerf Dart Into The Nerf Ion Blaster
Close Top Breach
Aim At Your Target
Squeeze The Trigger To Fire
Repeat
---
Pros Vs Cons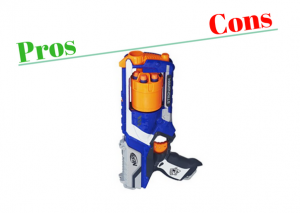 Pros:
Comes With Attachments
Easy To Shoot
Customizable
Cons:
Hold/Fires Single Dart
Ranged Attacks
Could Lose Attachments
When you choose a Nerf Gun from The Nerf Modulus Series, you are going to get attachments! With The IonFire you get a barrel extension attachment and a 4 Nerf Dart holder attachment. The Nerf IonFire is very easy to fire, draw back on the top action and pull the trigger to fire at any target you need to take out! Finally, you can add any Nerf Modulus Attachment you choose to upgrade your IonFIre to give any mission a higher chance of success.
There are some downfalls, The Nerf Modulus IonFire Blaster only holds and fires one Nerf Dart at a time, that means you better be a fast reloader, get to practicing, but with the Nerf Dart Holder Attachments, your Nerf Darts are all ready to grab and load right next to the top breach door.
Do be careful not to lose the attachments, your range may drop without the barrel attachment. Just make sure you keep track of your Nerf arsenal and never lose your attachments, that just means you can't use them anymore! Respect Your Arsenal! Never Lose Your Edge On Your Enemy!
---
Who Is The Nerf Modulus IonFire Blaster For?
The Nerf Modulus Series is rated for ages 8+, but I say, if you can teach your younger ones to shoot safely and accurately, they can have Nerf Gun Fun too. Parents, this is where you come in, get yourself a Nerf Gun too, to help your younger ones learn how to fire safely and accurately!
The Nerf Modulus IonFire Blaster is a great starter Nerf Gun due to the fact The IonFIre is a smaller one Nerf Dart firing Nerf Gun, that may appear as weaker or less powerful compared to other Nerf Guns, but what matters really can come down to just one Nerf Dart, one Nerf Dart fired from your IonFIre!
Older Folk that have never had a Nerf Gun will love getting an IonFIre as a gift, they might not want to be too involved in the Nerf Gun Fun, but they can still be a little involved. If they want to become more involved, they can upgrade whenever they want, or just ask you for a new Nerf Gun with more power, while they use their IonFIre as a secondary!
For the competitive Nerf War participant, I think The Nerf Modulus IonFire Blaster would make a decent secondary Nerf Gun to take to battle with you, depending on your reload speed and if you can get the right attachments to fit your battle method. Used as a secondary for your last resort in a Nerf War, it will only take one shot from your IonFIre to eliminate your enemy and save yourself!
---
Is The Nerf Modulus IonFire Blaster Worth The Price?
The Biggest Question When You Are Going To Buy Anything….


The fact that The Nerf Modulus IonFire Blaster comes with 3 attachments already, two dart holders and a barrel extension, that are compatible with all The Nerf Modulus series, and 4 Nerf darts, I do think you get your money's worth.
Besides the attachments, The Nerf Modulus IonFire Blaster is a pretty cool Nerf Gun on its own. It is single fire but like I said above, if you can reload fast you better get good at it, but there are all sorts of situations where you don't need to reload quickly, a nice little relaxed load and fire target practice is always fun.
If one Nerf Dart is all it takes to get an edge on your enemy, The IonFIre Is Definitely Worth The Price, one Nerf Dart placed perfectly is all it takes!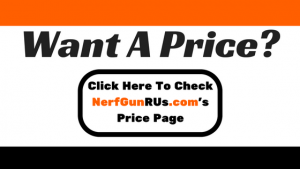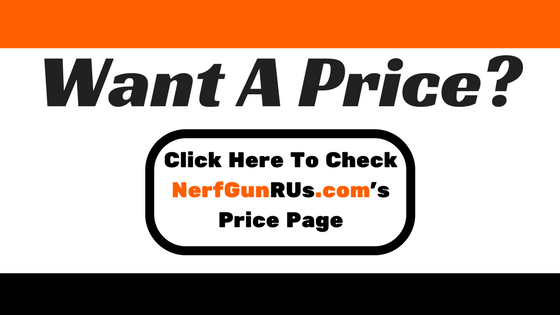 ---
My Final Opinion Of The Nerf Modulus IonFire Blaster
My final opinion of The Nerf Modulus IonFire Blaster is that it can be a bit slower on the reloading but the attachments that are available make it a little more effective in Nerf Battle, I recommend you have good hiding spot to reload and pop off shots or just use The IonFIre as secondary in last resort situations.
It really comes down to what you are looking to use The Nerf Modulus IonFIre Blaster for.  Just to have around the house as a some kind of defense from … the kids or the opposite situation, kids trying to defend themselves from the parents?!
Look into more attachments from the Nerf Modulus Series and collect all the attachments you need to make sure all your missions goes as planned! Also look into upgrading all your traditional Nerf Darts to Nerf AccuStrike Darts that fire straight due to their spinning design. They fire much more straight and make for much less missed Nerf Shots!
---
At A Final Glance … The Nerf Modulus IonFire Blaster
Product: Nerf Modulus IonFire Blaster
Ammo Capacity: 1 Nerf Dart
Best Attack Position: Close To Mid Range (Covered)
Overall Rating: 81 Out Of 100

When you are finally ready to get yourself a Nerf Gun or you are ready to take the steps to getting someone else their very first Nerf Gun, or maybe you just really want a Nerf IonFIre, any reason is reason enough. Clicking The Nerf Modulus IonFIre Banner Above will bring your directly to Amazon.com where you can make your purchase.
NerfGunRUs.com works with Amazon.com to make sure you find the Nerf Gun that will work for your style of Nerf Combat, then easily allows you to click a banner to be brought to Amazon.com where you will have the option of frustration free packaging or manufacture's packaging along with other deals, for example, ammo, once you have your Nerf Items Picked Out, Safely and Securely make your purchase through Amazon.com.
---
Thanks for taking the time to check out my review on The Nerf Modulus IonFIre, this little Nerf Gun may only fire 1 Nerf Dart at a time, but with the simple draw back action and easy loading, one Nerf Dart fired from the IonFIre might be all it takes!
What Do You Think About 1 Nerf Dart Firing Nerf Gun Like The Nerf Modulus IonFIre?
Help Others Out With Your Full Opinion, Leave Your Comments Below!
Awesome,
Kenny
Head Of NerfGunRUs.com