Product: Nerf N-Strike Modulus ECS-10 Blaster
Ammo Capacity: 10 Nerf Darts
Best Attack Position: Any (With Attachments)
My Overall Rating: 85 Out Of 100
---
What Is The Nerf N-Strike Modulus ECS-10 Blaster?
When it comes to The Nerf Modulus Series, they are all pretty cool because the fact, all the interchangeable attachments, work on any Modulus Series Nerf Gun!
The Nerf N-Strike Modulus ECS-10 Blaster gives you over 30 different attachment combinations. The attachments you get with The Nerf N-Strike Modulus ECS-10 Blaster are targeting scope, drop grip, dual-rail barrel and 10 Nerf dart banana clip. Just enough to get a mission done. Customize your ECS-10 to make sure your mission is done successfully and as easy as possible… Unless easy isn't what you want!
How To Use:
Remove Battery Cover
Insert 4 AA Batteries / Close Battery Cover
Select Your Attachment Options
Load 10 Nerf Darts Into The Clip
Insert Banana Clip Into The ECS-10
Hold Down The Lower Trigger To Warm Up The Motor
Pull The Trigger To Fire 1 Nerf Dart, 1 After Another
Repeat 6-7 Until Reload Required
*Batteries Should Be Changed When Noticeable Motor Slow Down Happens
*Different Attachments Help Different Missions

---
Pros Vs Cons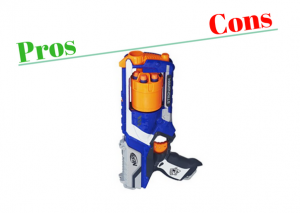 Pros:
30 Different Combos
Motorized
Design
Cons:
More Attachments = More Bulk
4 AA Batteries
The Nerf N-Strike Modulus ECS-10 Blaster has 30 different combinations you can choose from, if you can obtain all the attachments! This is pretty awesome because of the motorized firing power, you can unload the whole clip in seconds, or upgrade your magazine to larger one! With the design of the Nerf Modulus Series allowing any Nerf Modulus attachments to fit any Modulus Nerf Gun, that is awesome!
Semi Automatic! Pull The Trigger to fire 1 Nerf Dart, repeat as long as you are holding the motor trigger and still have ammo!
The Nerf N-Strike Modulus ECS-10 Blaster has 30 different combos but, the more attachments you add, the larger and heavier The Nerf N-Strike Modulus ECS-10 Blaster becomes, just be aware, sometimes it's never an issue, sometimes bigger is better! Batteries do make Nerf Guns shoot faster, but they do add weight also, with 4 AAs that isn't too much weight, but some larger Nerf Guns take 4 D batteries!
---
Who Is The Nerf N-Strike Modulus ECS-10 Blaster For?
Any Nerf Gun that fires regular sized Nerf Darts, like the Nerf Modulus Series, is rated for ages 8+, however, I believe anyone who can learn to properly and safely fire accurately, should have Nerf Gun Fun, Nerf Gun Fun For All! You are never too old for Nerf Guns either, once again, Nerf Gun Fun For All!
If you are finding yourself in need of a Nerf Gun that you can customize up to 30 different ways, you have found the right one! For any situation, you can customize The Nerf N-Strike Modulus ECS-10 Blaster. Give this as a gift and you will be able to buy a new attachment each time you need to give another gift!
Are you looking to go tear up the Nerf War Zone? 30 different attachments give you an edge in just about any situation. You have a tactical Nerf Gun that will take skills to eliminate the enemy, be careful of the brutes with rampage Nerf Guns!
---
Is The Nerf N-Strike Modulus ECS-10 Blaster Worth The Price?
Before I Actually Make A Purchase, I Always Have To Ask…


With the whole Nerf Modulus Series, you can change any of the attachments, someone else have a Modulus Nerf Gun? Swap some attachments to get the edge on your enemy, then swap back when the job is done! It is that simple!
The Nerf Modulus ECS-10, at 30 combinations, with motorized firing that allows you to warm up the motor and unload your clip in seconds, with semiautomatic firing. One attachment you can get, is a larger magazine and upgrade to Nerf AccuStrike Darts for more accurate Nerf Shots!
Because of the options for attachments and the motorized firing, with only 4 AA batteries, along with the 30 different combinations along with attachments for other Nerf Modulus Gun. Yes, I think The Nerf N-Strike Modulus ECS-10 Blaster is worth the price!
---
My Final Opinion Of The Nerf N-Strike Modulus ECS-10 Blaster
When it comes to Nerf Guns, I think they can solve a lot of problems. Get in an argument? Can't settle a decision? Settle it with a Nerf battle, unless there are 2 sides with a bunch of supporters, start a NERF WAR! There will sure to be a decision made!
My final opinion of The Nerf N-Strike Modulus ECS-10 Blaster is that you get to easily fire your whole clip in seconds with semiautomatic firing. I do recommend upgrading your clip and maybe even your Nerf Darts, I recommend Nerf AccuStrike Darts, they fire straight because of their spinning design.
When it comes to the Nerf Modulus Series, you want to have attachments, the more attachments the better, or the better the attachment the better. Quality over Quantity Or Quantity over Quality? You decide!
---
At A Final Glance … The Nerf N-Strike Modulus ECS-10 Blaster
Product: Nerf N-Strike Modulus ECS-10 Blaster
Ammo Capacity: 10 Nerf Darts
Best Attack Position: Any (With Attachments)
My Overall Rating: 85 Out Of 100

When The Nerf Modulus ECS-10 wins over your heart, you are going to want to click The Nerf Modulus ECS-10 Banner Above, that will bring you directly to Amazon.com where you can safely and securely make your purchase of your Nerf ECS-10.
NerfGunRUs.com works with Amazon.com to ensure you are able to find the Nerf Gun that fits your style of Nerf Combat then easily switch over to Amazon.com to easily make your safe and secure purchase, where you have the option of frustration free packaging or manufacture's packaging, along with other deals like Nerf Modulus Attachments or ammo, never run out of ammo!
---
No doubt the Nerf Modulus ECS-10 is a true modulus Nerf Gun, you get an assortment of attachments but you can never have too many attachments with your Nerf Modulus Series Nerf Guns, when you deicide to get another Modulus Nerf Gun to add to your collection, you will have all the attachments from both Modulus Nerf Guns!
What Nerf Modulus Attachments Do You Have? Any You Prefer Over Others?
Let Me Know What Modulus Attachments You Have, In The Comments Below!
Awesome,
Kenny
Creator Of NerfGunRUs.com