Product: Nerf N-Strike Elite Disruptor
Ammo Capacity: 6 Nerf Darts
Best Attack Position: Close – Mid Range
Overall Rating: 90 Out Of 100
---
What Is The Nerf N-Strike Elite Disruptor?
Nerf comes out with new Nerf Guns every so often, sometimes they are completely new, sometimes they are upgraded Nerf Guns and sometimes they are barely different from the last model. If it ain't broke why fix it?
The Nerf N-Strike Elite Disruptor is basically The Nerf Elite Strongarm, without the side flipping barrel to load the Strongarm, The Disruptor loads right in the front into the rotating barrel. The Nerf Disruptor holds 6 Nerf Darts that you can fire one at a time, or with Slam Fire to fire one Nerf Dart every time you pull back on the top drawback action.
Just hold down the trigger and pull back the top action as fast as you can over and over to fire over and over all 6 shots!
How To Use:
Load 6 Nerf Darts In The Rotating Barrel
Pull Back Top Action To Prime
Aim For The Sweet Spot On Your Target
Pull The Trigger To Fire 1 Nerf Dart
Repeat 2-4 Until Reload Required
*Easier Reload Compared To The Strongarm
---
Pros Vs Cons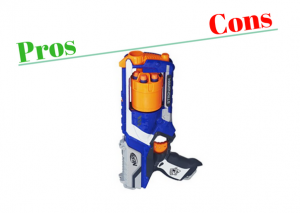 Pros:
Slam Fire
Design
Easy To Load
Powerful
Priming Indicator
Cons:
The Nerf N-Strike Elite Disruptor has Slam Fire capacities that make unloading 6 Nerf Darts easier than ever, hold down the trigger and fire one Nerf Dart, every time the draw back action hits the end of it's draw. The design of The Disruptor is very similar to The Strongarm for the reason, The Strongarm is a great Nerf Gun! Compared to the Strongarm, The Disruptor is a bit easier to load, with more room and not having to remove the rotating barrel to load. Both The Strongarm and The Disruptor pack the firepower needed to fit into The Nerf Elite Series!
This is a bit unique to The Disruptor, when you pull back on the top action to prime The Disruptor, on the back, there will be an orange indicator, letting you know that, you are ready to fire!
I am a bit disappointed that The Disruptor is so close to The Strongarm, making it less desirable if you already own a Strongarm… But still an awesome Nerf Gun!
---
Who Is The Nerf N-Strike Elite Disruptor For?
The Nerf Elite Series is rated for ages 8+, however, I do believe anyone younger can still have Nerf Gun Fun with proper safety and accuracy training. I believe in Nerf Gun Fun For All! Parents, test your kids before you trust them! Make them prove themselves!
When you want a basic Nerf Gun, that is easy to fire, easy to reload, easy to carry, just easy to use in really any situation, You want The Nerf N-Strike Elite Disruptor! I would recommend this basic Nerf Gun to anyone that has an interest in Nerf but do not want to go too Nerf crazy, yet.
Grandma or Grandpa? Office Defense? Kids bothering you while you are cooking? I promise you will find some way to use The Nerf Disruptor to your advantage!
When you want to go into Nerf War with an awesome primary Nerf Gun and an awesome secondary Nerf Gun to back up your primary, The Nerf Elite Disruptor is perfect. When you need to grab your Disruptor, all you need to do is prime, point, aim, and fire to save yourself in those close call situations!
---
Is The Nerf N-Strike Elite Disruptor Worth The Price?
Before I Actually Buy Anything, I Always Have To Ask…


When you want a Nerf Gun that is reliable and always going to give you the firepower you want when you need it, I recommend The Nerf Strongarm, but when you upgrade The Nerf Strongarm by slightly modifying it, you get The Nerf Disruptor. Both are amazing Nerf Guns that will preform when you need them too.
If you are looking for a new secondary Nerf Gun, or an awesome first Nerf Gun for pretty much anyone, I say go with The Nerf N-Strike Elite Disruptor!
Yes, I say The Nerf Elite Disruptor is worth the price!
---
My Final Opinion Of The Nerf N-Strike Elite Disruptor
The Nerf Elite Series is meant to get the mission over as soon as possible. The Nerf N-Strike Elite Disruptor is faster to load from The Nerf  Elite Strongarm, making this a bit more functional in quick missions. Instead of having to flip out the rotating barrel on the Strongarm to the side, you just load and turn the Disruptor's barrel from the front.
My final opinion of The Nerf N-Strike Elite Disruptor is this isn't much different from The Nerf Strongarm, so if you already have a Strongarm, I wouldn't recommend going straight to buying The Disruptor. I would recommend you check out a New Primary Nerf Gun and continue using The Strongarm, or checking out a different Nerf Gun to use as a better secondary.
The facts about The Nerf Elite Disruptor are, this Nerf Gun fires fast and accurate, what more do you need from a reliable Nerf Gun. You need to start somewhere with a Nerf Gun, The Disruptor is a great first choice.
You load The Disruptor right in the front, it is quicker than loading The Strongarm… When you have an awesome design, its hard to improve it! The Nerf Disruptor can be improved with Nerf AccuStrike Darts for more accurate shots due to their spinning design when fired.
---
At A Final Glance … The Nerf N-Strike Elite Disruptor
Product: Nerf N-Strike Elite Disruptor
Ammo Capacity: 6 Nerf Darts
Best Attack Position: Close – Mid Range
Overall Rating: 90 Out Of 100

The Nerf Elite Disruptor is ready for battle, just make sure you take a few practice shots on a few targets, prior to your mission. When you are ready to purchase a Nerf Disruptor for yourself or a gift for someone else, Clicking The Nerf Elite Disruptor Banner Above will bring you directly to Amazon.com where you will have the option of frustration free packaging or manufacture's packaging along with deals on ammo like Nerf AccuStrike Darts. You Never Want To Run Out Of Ammo!
NerfGunRUs.com works with Amazon.com to make sure you find the Nerf Gun that fits your style of Nerf Combat, The Disruptor is for mid range combat, not too close, not too far, then easily switch over to Amazon.com to safely and securely make your purchase of your Disruptor.
---
Thanks for checking out my review of the Nerf Elite Disruptor. 6 Nerf Darts with a simple design makes The Disruptor perfect for… Anyone!
Try to find a reason why you wouldn't want a Disruptor… Unless you already have a Strongarm… Simple, Have them both in your arsenal!
Awesome,
Kenny
Creator Of NerfGunRUs.com