Product: Nerf N-Strike Elite SurgeFire
Ammo Capacity: 15 Nerf Darts
Best Attack Position: Mid Range (Cover Available)
My Overall Rating: 87 Out Of 100
---
What Is The Nerf N-Strike Elite SurgeFire?
When you are part of the Nerf Elite, the mission is get in and get out, take out any target that comes into sight, but keep it quiet, you don't want a full out Nerf Battle… Or Do You?!
The Nerf N-Strike Elite SurgeFire is a 15 Nerf Dart SlamFire designed pistol gripped pump action Nerf Gun that has a large rotating drum to hold all 15 Nerf Darts and spin to load the next Nerf Dart with each pump. When you are ready to spray 15 Nerf Darts in just seconds, hold down the trigger and pump as fast as you can to spray Nerf Darts everywhere! Or just at the target you want to focus your assault on! Spray all 15 or single shot as many as you like!
How To Use:
Insert Rotating Drum
Load 15 Nerf Darts In The Rotating Drum
Pump To Prime
Find Your Target
Squeeze The Trigger To Fire
Repeat 3-5 Until 2 Is Required
---
Pros Vs Cons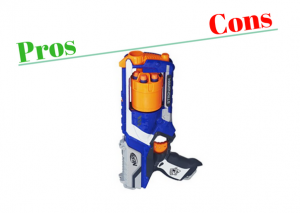 Pros:
SlamFire
Ammo Capacity
On The Run Firing
Overall Feel
Cons:
The Nerf N-Strike Elite SurgeFire is quite the Nerf Gun that allows you to fire easily on the run, either using single fire shots, or holding your trigger and firing a new Nerf Dart with each pump of the handle, AKA SlamFire! When you get a Nerf Gun with SlamFire capabilities, it's nice to have quite a bit of ammo to fire before needing to reload, SlamFire makes you go through your Nerf Darts much faster, so with The SurgeFires 15 Nerf Dart count, it makes it a bit harder to miss your target when you can continue firing until you know you got them! When you are out, simply reload your drum in any order you like!
The SurgeFire is pretty awesome as it is, but The SurgeFire only comes with 1 tactical rail and no other attachment areas for something like a stock for more stable shots. I know you don't need as much stability when you are SlamFiring and bound to hit something at some point, but if you did want single shots, a stock option would be nice!
---
Who Is The Nerf N-Strike Elite SurgeFire For?
The Nerf Elite Series is rated for ages 8+, however, I am a firm believer in Nerf Gun Fun For All, as long as the younger ones can prove they are capable of safe and accurate shooting. I like to tell parents to put their kids to the test, if you can trust them, they should be good to go, but if you need a way to control them later… Get a larger Nerf Gun, to beat The SurgeFire, maybe consider The Nerf Mega RotoFury? Same Style just a little bigger!
If you are someone who is looking to complete missions, get in and get out, while taking out any targets that want to complicate the mission, you could be a very good candidate for Th Nerf Elite SurgeFire, when you run in, you hold down the trigger and pump your heart out! When you have run out of ammo and decide to open your eyes, everything will be hit!
Maybe you are already a seasoned Nerf War champion that is looking for a new style to destroy the competition with… Maybe you just need an option with more ammo to make more of a point to your targets, to let them know who they are messing with! Maybe you just want a good Nerf Gun to defend yourself with…
The Nerf Elite SurgeFire is great for either defense or offense, use it to hold down a location or go on the offense and take out any target you want! Is 15 Nerf Darts enough for you to get the job done, or do you need more, something like The Nerf Elite Rampage with 25 Nerf Darts?!
---
Is The Nerf N-Strike Elite SurgeFire Worth The Price?

Before I Make Any Final Decisions… I Always Ask…


When you get a Nerf Gun that has ammo above 12, I consider that to get a good amount to be able to do just about anything you want to do, take out as many targets as you want, if you can't do it the first round, find a place to reload and try again.
The Nerf N-Strike Elite SurgeFire holds 15 Nerf Darts in its easy to load drum, either unload your whole drum and reload or fire a few shots and reload to make sure you always have a full drum to ensure any battle is dominated by you! If you need an extra sight or maybe a Nerf Missile Launcher Attachment, you can add that right to the top tactical rail!
With SlamFire, a good amount of ammo at 15 Nerf Dart, easy to load drum and top tactical rail…
Yes, I Say The Nerf N-Strike Elite SurgeFire Is Worth The Price!
---
My Final Opinion Of The Nerf N-Strike Elite SurgeFire
I love it when you can assemble a whole squad with their own Elite Nerf Gun, plan a mission, execute the mission and eliminate any threats to accomplish the mission! When you can do that, you can plan an even larger mission next time, even take your team into the next Nerf War!
Anyways… My final opinion of The Nerf N-Strike Elite SurgeFire is this is a great Nerf Gun to use when you want to run around and SlamFire everything in site, find a place to reload and go at it again. With 15 Nerf Darts, I know you can hit your target at least once, that's all it takes!
The pistol grip is nice but the lack of a stock or even a place to add a stock kind of makes some shots awkward, but the main goal is to run in, SlamFire Everything, and just end it like that, when everything has been hit, what's left to do? Reload and hit everything again?! Better have lots of Ammo!
Anyways… Great Nerf Gun, Awesome SlamFire, And Easy To Use On The Run!
---
At A Final Glance … The Nerf N-Strike Elite SurgeFire
Product: Nerf N-Strike Elite SurgeFire
Ammo Capacity: 15 Nerf Darts
Best Attack Position: Mid Range (Cover Available)
My Overall Rating: 87 Out Of 100

When The Nerf N-Strike Elite SurgeFire has won over your heart and you are ready to destroy your competition with one, Clicking The SurgeFire Banner above will bring you directly to Amazon.com where you can make your purchase, along with more Nerf Darts, it's a real bummer when you run out of ammo and have no choice but to scavenge.
NerfGunRUs.com works with Amazon.com to make sure you find The Nerf Gun that fits your style, The SurgeFire is for anyone ready to slamfire their A** off, when you found the one that is right for you, simply click a banner to safely and securely make your purchase through Amazon.com.
---
Thanks for taking the time to check out my review of The Nerf Elite SurgeFire, if you are into SlamFiring 15 Nerf Darts, finding a place to reload and doing it all over again until everyone and everything has been hit, you may be a fan of The SurgeFire… I Know I Am!
What Do You Really Think About The SurgeFire?
Let Me Know In The Comments Below!
Your Comments Can Help Others Get An Edge On Their Enemy!
Awesome,
Kenny
Master Mind Behind NerfGunRUs.com