When you are looking for reasons to actually purchase a Nerf Gun, whether you need reasons to purchase a Nerf Gun for yourself or reasons to purchase one for your child or anyone one else…
Here are 10 Reasons Why You Should Purchase A Nerf Gun For Yourself Or Anyone Else You Are Looking To Buy One For:
---
#10) FUN – Undeniable by anyone who has ever picked up a Nerf Gun…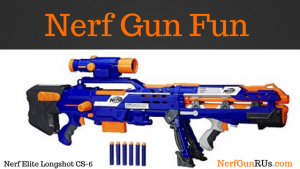 When you pick up a Nerf Gun, figure out how to prime it than finally get to pull the trigger, there is no one who doesn't want to fire another Nerf Dart. The simplicity of loading, priming and firing is so simple that when everyone gets a Nerf Gun, follows the group set rules and get to experience Nerf Gun Fun there really is nothing but FUN!
#9) Exciting – The Adrenaline Filled Sensation Of Firing And Dodging Nerf Darts
Nerf Guns are styled like guns that everyone sees in the movies, but these don't do any real damage. Nerf Darts give you the sensation of actual combat without the much more physical pain. When you see a Nerf Dart flying at you that you know will eliminate you, you still have a chance to duck and cover, recover than get a Nerf Dart sent in their direction!
Make Sure You Know The Different Nerf Darts!
#8) Challenging – Knowing You Have To Overcome Obstacles To Get The Best Nerf Shot
Sometimes there are Nerf competitors that are tricky targets, you just can't hit them, that is a challenge! Knowing that they are going to be moving, you are challenged to figure out how to get the right shot. Maybe you need to check out a New Nerf Gun to get the edge on your enemy. If the challenge is too large, make your next Nerf Gun Large too!
#7) Satisfying – Getting The Satisfaction Of Hitting Your Target
Whether it be during target practice, annoying the coworkers, declaring Nerf Battle, or eliminating an actual player in a Nerf War, just hitting your target knowing you can't do any real damage (But Still Get Their Attention) is so satisfying. Knowing you fired your Nerf Dart across a distance to hit the target you were aiming at, whether you show it or not… The Feeling Is Satisfying!
#6) Hand Eye Coordination – Having To Know Where You Are Aiming And Being Able To Fire Accurately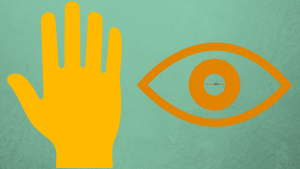 Not everyone gets this right away. Hand Eye Coordination can be taught in many ways, from video games, to martial arts, to of course… Nerf Guns! When you can successfully learn to aim a Nerf Gun, pull the trigger, and hit your target, over and over… consistently. You know your Hand Eye Coordination is pretty good, but can it get any better?
#5) Bonding – Having Fun Together
Nerf Guns can be one of the easiest ways to bond with anyone you are looking to get to know better. There is not a lot of people that can't pick up a Nerf Gun, start firing at each other, than come together afterwards to talk about all the awesome shots that just took place! All you have to do is start the tradition, then let the bonding take place.
#4) Nerf Gun Options – The Ability To Get The Edge On Your Enemy
When you want to have options to always make sure you have the edge on your enemy and always make sure you are the one who comes out victorious, you need to have different options to make sure your enemy doesn't get the edge on you! There are different Nerf Guns for every situation, here at NerfGunRUs.com, there are Nerf Gun Reviews for every Nerf Gun Series to help you know which Nerf Gun is best for you in which situation!
Organized List Of Nerf Guns With Reviews!
#3) Strategy Skills – Having To Figure Out New Tactics When Certain Ones Don't Work
When someone enters into a Nerf War, they are required to figure out the right strategy to eliminate the enemy targets. Some do not know that they are amazing at making good strategies, they can bring the team together to execute an amazing game plan that eliminates the whole opposing team, while others are not so brilliant and find themselves on the sideline due to elimination from the more strategic enemy teammates.
However, there are those brave enough that take on the challenge of using a Tank Nerf Gun, that holds an incredible amount of ammo that is capable of eliminating the whole team, but once again, it comes down to strategy on how you keep that brave teammate from being hit!
Top 5 Nerf Guns To Rampage With
#2) Get The Family To Put Down The Technology – Need A Way To Get The Family Up And Moving?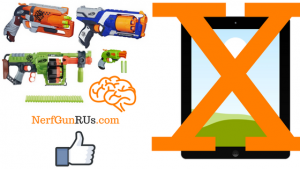 When everyone in the family, yes including Mom and Dad, have Nerf Guns, there is never a way to say you were defenseless, if you have an argument, get the Nerf Guns out, work out some deal that involves having to run around for a Nerf Battle.
Do you struggle with getting your kids to get up and play more? Do you need a way to get them away from their devices and out in the back yard running around and having a good time? Nerf Guns can be the best way to encourage your kids to get up and play, but there is no better encouragement than the parent playing too!
Plan for entire family Nerf Wars, get everyone a Nerf Gun, a new Nerf Gun as a gift each time will build up arsenals… Family get-togethers will always have at least one fun part, where the whole family gets together for a giant Nerf War, Traditions start whenever you want!
#1) SAFE To Use – No Real Damage Can Be Done By Nerf Darts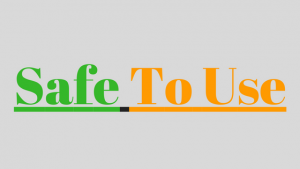 When you are too scared to get a "gun" styled toy, just know that Nerf Darts are made of foam, they have rubber tips and they do not fire at any speed that will do any significant damage if used properly. Of course there is going to be some pain involved if you take a pointblank shot, but once again, no significant damage.
Each Nerf Series has their own Nerf Darts that carry a different look to match the series it came with, but no Nerf Darts will do any damage to actually break anything (Body wise), its just a foam dart.
Want To See All The Options Of Nerf Guns that are here at NerfGunRUs.com?
Click Here To Check Out My Long List Of Nerf Gun Reviews!
---
If you have any further questions about why you should purchase a Nerf Gun, or if you have any comments that back up my opinions of why everyone should have Nerf Guns, please feels free to leave your comments and or questions below.
Thank you!